Nikolay Davydenko has reached the final of the ATP World Tour Finals after edging out world number one Roger Federer.


The diminuitive Russian finally tasted success against his Swiss opponent as he came through an epic three-set clash with a 6-2 4-6 7-5 victory at the O2 Arena in London.
Davydenko, who produced some scintillating groundstrokes in the decider, broke Federer's serve in the 11th game of a tight final set before serving it out to earn his first win over the all-time leading Grand Slam champion at the 13th time of trying.
The sixth seed has now booked his place in Sunday's final - for the second successive year - where he will meet the victor of Robin Soderling and Juan Martin Del Potro's clash which will be played later on Saturday.
"I think I have waited a long time to beat once Federer," Davydenko said after his stunning victory. "After 12 times of losing and now here in London winning my first time against him it's amazing for me."

Faultless
Federer, who won the title four times in five attempts between 2003 and 2007, came into the last four in bullish mood considering his faultless record over Davydenko which also saw the Swiss win 22 of the last 23 sets against his opponent.
And the Russian's task was made even harder by the scheduling, which saw him take to the court less than 16 hours after beating Robin Soderling in his final round-robin match which was played into the late hours of Friday night.
But, after Federer won the first six points, it was Davydenko - beaten by Novak Djokovic in last year's final - who gained the ascendancy.
The world number one could not take advantage of two break points in the second game and then played a terrible game, serving two double faults and throwing in two more unforced errors to hand his opponent the first break.
Federer had lost the first set in all his group matches and found himself staring down the barrel again when another double fault and a netted forehand gave Davydenko a shock 4-1 lead.
The Swiss star recovered one of the breaks immediately, his forehand suddenly firing again, but the respite was only temporary and Davydenko made it three breaks in a row before sealing the first set.

Inevitable
It seemed inevitable Federer would improve - he could hardly get any worse - and he was certainly making fewer errors at the start of the second set.
He gradually began to look more like his old self, playing his best game to date to move 4-3 ahead with a series of winners.
And, after escaping a potentially sticky situation at 4-4, he claimed the crucial break to win the set, taking it on his second chance following one of the best rallies of the match.
Federer had the advantage of serving first in the decider and at 4-5 the match came alive.
A lucky net cord gave him the opening point and an outrageous shot off a Davydenko smash put Federer in sight of the final.
But he could not take his chance as Davydenko held his nerve to level at 5-5 before the Russian capitalised on break point in the next game, which he took with a stunning backhand return.
Two big serves took the world number seven to 30-0 but Federer was not finished, a brilliant rally resulting in a break point.
This time Davydenko excelled, though, blasting a forehand winner, and one big serve later he was at match point, which he took when Federer netted a forehand.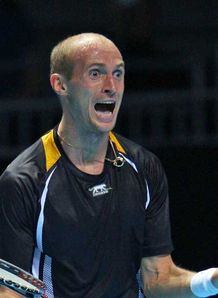 Davydenko overjoyed at finally beating Federer