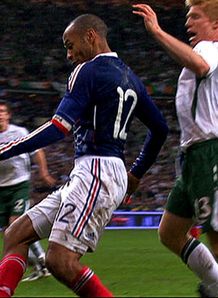 Thierry Henry could miss the start of the next summer's World Cup finals after Fifa said his infamous handball will be referred to its disciplinary committee.


The announcement came as Fifa's executive committee met for an emergency meeting in Cape Town.

The French striker came under fire in the aftermath of the controversial win over the Republic of Ireland in last month's play-off match, which saw the FAI call for a replay.
The 32-year-old could face a ban if he is found guilty of any wrongdoing.
The incident also reignited the debate over the use of technology and Fifa came under pressure to introduce goalline technology and a five-referee system
Fifa rejected both calls but announced it will launch an inquiry to consider the use of both technology and extra officials in future matches.
"The disciplinary will open a case on the behaviour of the player Thierry Henry,
" said Fifa president Sepp Blatter.

"I have not said that Thierry Henry will be punished, I have said that Thierry Henry will be examined by the disciplinary committee of Fifa.
"This is a matter of the disciplinary committee and it's not a question of this player or another - it was a blatant unfair playing and was shown all around the world, but I don't know what the outcome will be."
The FAI also asked Fifa to consider letting Ireland enter the finals as a 33rd team, but that idea was also rejected.
Football's governing body has come under great scrutiny in light of its message to the football world regarding the importance of fair play, and Blatter said players should realise that the eyes of the world will be on them next summer.
"I appeal to all the players and coaches to observe this fair play," he added. "In 2010 we want to prove that football is more than just kicking a ball but has social and cultural value.
"So we ask the players 'please observe fair play' so they will be an example to the rest of the world."
The referral of Henry will come as little consolation to the FAI, which has argued vociferously for Giovanni Trapattoni's side to be given a place at the competition.