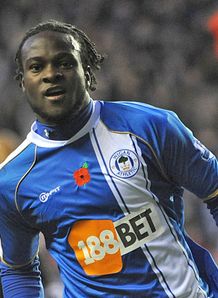 England Under-21 striker ready for Super Eagles
Victor Moses has finally confirmed his international allegiance is now with Nigeria.
Moses
is an England Under-21 international, but the Super Eagles have long been trying to persuade him to switch to their colours.

Now the 20-year-old has decided to play for the country of his birth.
His agent Tony Finnigan
confirmed to skysports.com that Moses had made his decision.
"Victor has accepted the Nigeria call-up, and everyone at Wigan is fully behind him, which is important," Finnigan told skysports.com.

"Victor is linking up with the squad ahead of their game with Ethiopia and is really looking forward to playing for Nigeria."
Nigeria have confirmed that they have been able to bring Moses into their squad.
"We have called up Moses for this weekend's match against Ethiopia after we made a couple of changes in the squad," said Nigeria assistant coach Simon Kalika.

Onuoha
Nigeria are still hopeful of persuading other English-based players to make the switch, including Shola Ameobi
and Nedum Onuoha.

"Onouha is a fantastic defender and very soon he and the chief coach would have a good meeting and we will start from there," Kalika disclosed.
"It was just a communication problem between the player and the chief coach and so in the end he wasn't able to discuss with Onuoha.
"But I am sure that he is proud to be a Nigerian and very soon he will signify his intention to join the team."

SKYSPORTS